All right. Section 2 of Emily's Telegraph Avenue Readalong.
So here's the thing: I love Titus. Like, love. A whole lot. To the point where I'm kind of like "Why isn't everyone shouting on their posts about Titus?" BUT I get that this is the kind of book where the expanse of characters who are given page space is so great that people are going to pick different ones they love.
This section...I'm actually not that crazy about Gwen. And with these character likes and dislikes, you can then ask yourself "Well, why?" and LEARN THINGS about thyself, so good job there, Chabon. But yeah, I get that she's got a whole lot of shit going on in her life. And that there's this stigma I just don't get because I'm white, but CAN YOU STOP SHOOTING YOURSELF IN THE FOOT, GWEN? PLEASE. It is frustrating to watch. You're not proving anything to these people other than confirming stereotypes they probably have.
Archy's kind of more mysterious at this point. Which I like. That's the thing, right? If this long, drawn-out explication isn't your bag, you're probably not going to like the book. But if it IS, then you're gonna be way into it. And it's TOTALLY my bag. *searches brain for bag jokes, comes up empty*
We don't quite GET Archy yet. He's slowly being revealed, and since part of him's seen through others' eyes, and a lot of it's negative, it's difficult to figure out who he really is. Which is just kind of exciting, because it IS slowly being discovered, and I trust by the end of the book I'll have a much more definite opinion on him than I do right now. But now?...I just don't know.
I like that you briefly see inside Archy's head, but it's at the beginning when you have no information about him. Gwen believes he keeps forgetting he's going to be a father, but he went out of his way to babysit that tiny person at the very beginning. WHEELS WITHIN WHEELS. Or something.

I do totally agree with Nicole that Obama's presence in the novel was weird and kind of dumb. If Chabon wanted to explain why he has him in there, fine, but otherwise it felt like either pandering, or dramatic irony. In either case, eh.
I did enjoy this quote by Aviva enough to mark it:
"It's like some kind of not-good date you keep asking me on."
Zing! HUMOR.
This post could have gone better. But basically all my hilarity circuits are misfiring this morning, so I give you this present, WHICH IS RELATED TO THE BOOK because they mention Eldridge Cleaver pants, and of course I had to google them: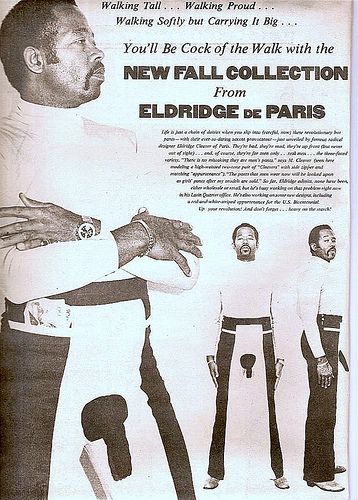 For the discerning gentleman