You know what I want? I want it to be like the 1300s, and a parallel universe, and I'm made to go on a quest in my leather boots, carrying my satchel with bread, cheese and a flask of wine, and maybe there're some gnomes and shit, and at some point I get lost in the forest, but then this deer that's totally into me but not in a gross way leads me out of the forest, and I hug it around its deer neck and carry on with my journey, and then YOU THINK I'M NOT GOING TO FINISH THE QUEST, but then I DO, and I journey back home and everyone's all "We shall have a celebration in the mead hall!" and then we all have an awesome time.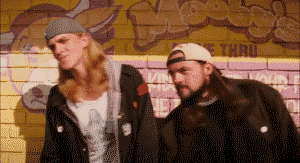 That's what I want.
My readalong post is indefinitely postponed for this week, as my crazy, hedonistic partying lifestyle got in the way of reading the book. So if I were going to post about Telegraph Avenue this week, it would just be bitching about the 12 page sentence that Chabon saw fit to throw in there, because I'm still in the middle of that. We know 12 page sentences can be done, Chabon. We know. THAT DOES NOT MAKE THEM GOOD.
I was ever-so-slightly arguing with the awesome Rainbow Rowell today, mainly about the okayness of downloading books. Basically (read: totally) meaning stealing them. This came about because I wanted to look at Mists of Avalon, but it was too late to go to the library, and I had a sneaking suspicion it was Arthurian revisionist New Agey b.s. and thusly did not want to buy it.
IS DOWNLOADING BOOKS EVER OK? Those insanely irritating don't-download-movies-because-it's-stealing unskippable ads that play before some DVDs (which is RIDICULOUS because they're playing for the people who BOUGHT the movie) kind of apply here, but I feel like they miss the point. We share more information now than ever before. And yeah, we've come to expect a lot of it to be free. But if I love something, I'll pay for it. If I want to support someone because I think their work is excellent, I'll donate to a Kickstarter.
The only advantage I see in publishing houses/distribution companies now is in their PR, but I kind of get that more from friends now. If I see ten ads for something and it looks pretty good, they won't have the same impact on me as one friend I trust saying "Oh, you should TOTALLY see/listen to/read that," or a really enthusiastic/hilarious post about it on Tumblr.
Should you normally go to the library and not download a book? Yeah. Totally. And if you just steal all your books/music/what-have-you, then you're a tool. But are there times we should not ignore the technology given to us and let it teach us things we suspected already? (how often have I liked feminist reinterpretations of things? that'd be never) Yeah. There're times for that.

Omg P to the S, people, Merlin the miniseries from 1998 is on Netflix Instant, and it still kicks ass after 14 years. Sam Neill and Isabella Rossellini! Helena Bonham Carter! Martin Short! Get on that.