Where have I been? ENDURING THE UNTOLD AGONY OF A KIDNEY STONE.

Let's back it up a sec and think back to Saturday morning. A carefree time, when one could walk down the streets of Hyde Park on the way back from a Gilbert & Sullivan audition, listening to Miley Cyrus's "Party in the USA" and think 'Hm, that's a strange feeling in my abdomen.'

Cut to eight hours later and there's me and my dad (my parents were up for the weekend) in the aisle of a CVS endeavoring to find something that'll stop the shrieking pain I'm in, and I'm crying and my dad doesn't know what to do because what do you do when your 27-year-old daughter cries in the aisle of a CVS?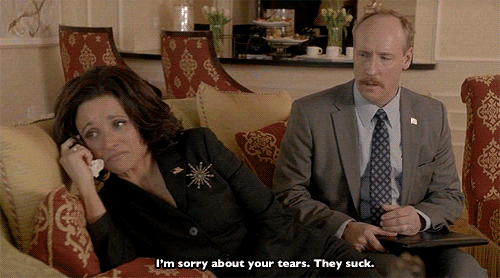 We go back to the hotel, and I was trying to fight it out, because my parents are older and I didn't want to put them to too much trouble, but it finally got RIDICULOUSLY bad, so I told my dad I had to go to the emergency room. And he took me there at midnight. And he held my hand while the nurse checked my blood pressure and temperature and I cried some more. And basically he's my favorite dad of all the dads.
There was a whole lot of ER bullshit, like having to tell five people in a row the last time you had your period ('cause man, they're REAL interested in that answer, but not so interested in writing it down and passing it on to the next person), and getting a lady exam at 2:30 in the morning and having to drink an inordinate amount of something disgusting called barium for the CT scan before finally getting released at 5:30 a.m. with your pants, a prescription for painkillers and a few errant shreds of dignity.
But there were highlights! Like my nurse Darcy, who was amazing and allowed me to play Huey Lewis and the News's "Back in Time" on my iPhone at 1 a.m. and dance around in my bed when the time change occurred. And the faint camaraderie I felt with the other ER patients I smiled at as I padded down the hall to the communal bathroom with my disheveled hair and hospital gown.
Basically, having a kidney stone is like there's a small person taking a dull knife to your insides and grinding at them, and you're like "OW OW OW THIS PAIN IN MY FRONT" but then your lower back starts hurting too and you say "I AM BEING ATTACKED ON ALL FRONTS IF MY BACK COUNTS AS A FRONT." So you can stretch in any way to try to alleviate it and it just hurts one side or the other. THERE IS NO ESCAPING THE KIDNEY STONE.
Then you lie down on your couch for 48 hours, drinking water, vomiting up food and barely comprehending the succession of early '90s films you've decided to play via Netflix Instant. Then at some point you learn that a kidney stone is usually the size of a grain of sand and you start hating everything. But then you take some more painkillers and everything's dandy.