I'm trying to update every day because then CHRISTMAS and who's going to do blogging stuff around Christmas?
...well, maybe people will; I mean, I don't want to hang out with my family ALL the time. But just in case, here is Christmas cheer and blogging for you.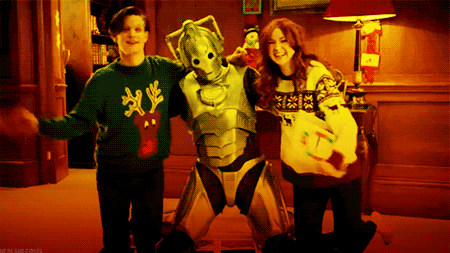 Also, did Julie and I have a TRANSCENDENT THEATRICAL EXPERIENCE LAST NIGHT? (yes) Because we went to Dickens' Women as done by Miriam Margolyes, and then we met her and she said Little Dorrit is her favorite and I have not READ IT, because I'm supposed to be reading one Dickens a year in chronological order and it is Barnaby Rudge's turn, but now I SUPER-want to read that one because she acted out characters from it and it seems fantastic.
I also enjoy that she loves Dickens but acknowledges he was a total asshat. Because such is my stance. I love his writing, but if we met, sir, I would punch you right in the face.
I posted this last year but I SUSPECT you did not watch it, for you do not know what is good for you. This is the hilarious Sue Perkins (to whom, you may remember, I proposed marriage via twitter and who is still thinking about it) discussing Dickens' relationship with his wife and how much he sucked. It's awesome.
Sue Perkins, Mrs Dickens' Family Christmas
by zodiacza
I do love Dickens' writing. I do. How can you not? (some people do not and I do not get them)
He is awesomely funny and writes occasionally twisty sentences that are muchly to be enjoyed. And his characters are some of the most memorable throughout literature. But OH his personal life. In the words of Miriam Margolyes, and Julie's favorite line of the show, "As a matter of fact, Dickens never got over anything that happened to him."
Oh, Dickens. One can love your writing but not you.