All my friends are seeing The Hobbit. I find myself with no desire to see The Hobbit.
Since my dad and brothers are so into sci-fi/fantasy (sci-fi much more than fantasy, but whatevs), I find that I feel much more confident in my knowledge of the genre than is warranted. Example: Star Trek: Next Generation. I know all the actor names, because the only thing I remember about watching it when I was little is the opening credits. Whenever someone's like "Remember when Data blah blah in that one episode?" I stare at them blankly. In terms of plotlines on STNG, the only thing I remember is that time Picard became a Borg. And I only remember THAT it happened -- I have zero idea how.
Enter The Hobbit. I've been feeling weirdly superior about my knowledge of this book roundabouts now. "Oh-ho, you silly general citizenry," went my brain, "If only you were as connected to this book/film as I."
Only recently (read: this morning) have I stopped and thought '...how many times did I read that book? Was it once? It was once. In 8th grade. When they assigned it. Do you know anything other than the fact that Gollum and Smaug are in it? I don't think you do. No, I'm sure you don't. Hm.'
So it turns out I'm a super lame-o whose main connection to Tolkien is the collection of Orlando Bloom posters that graced my dorm room walls in college.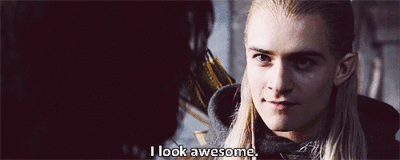 Yes you do, sir.
Are there other things in life about which I assume I have superior knowledge but am totally incorrect? Probably. I don't think I actually know that much about the Brontes. Or George Eliot. But I picked up some fun facts back in my teens, so I've kind of been coasting off those since then.
So enjoy the Hobbit movie that I think is about some dwarves and a dragon that was for some idiotic reason split into three parts despite LOTR being way way longer and only needing three movies but whatever Peter Jackson I get that you don't want to let go because this is the last one I mean who's gonna see a movie about the Silmarillion nobody plus it can't be done. I get it...