I really want a pretzel, you guys. From Auntie Anne's. That is all I want right now. But to get it, I would have to walk five blocks, and that at this moment feels like the equivalent of someone telling me "Oh, Auntie Anne's? Yeah, the nearest one is across the Gobi Desert. Just keep walking; you'll find it."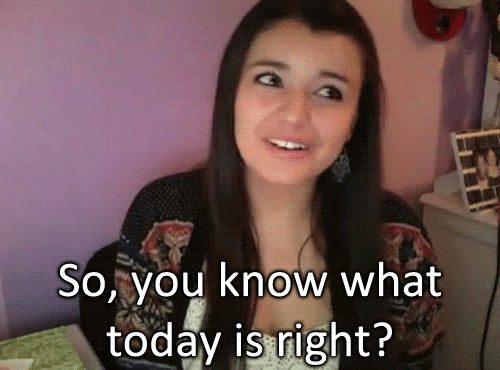 We must celebrate the day. How about with talking about children's lit? Because I am ENAMORED with children's lit. Not YA/teen lit, because that sucks. A lot. Like, children's lit is like a perfect, unique, crystallized snowflake, and teen lit is like a bucket full of shitty rainwater (with a few prismatic drops of exception).
Aarti at Booklust posted about Tales of Beedle the Bard and asked for series similar to Harry Potter, which made me think about all the kickass children's lit series there are out there. These're some of my favorites:
A Series of Unfortunate Events - Ignore the movie. Except the first five minutes, which are awesome. The last couple books of the series were seriously disappointing, but The Ersatz Elevator? Love. And pretty much the first nine books of the series. Plus they're by Lemony Snicket, who wrote the following:
"A man of my acquaintance once wrote a poem called "The Road Less Traveled", describing a journey he took through the woods along a path most travelers never used. The poet found that the road less traveled was peaceful but quite lonely, and he was probably a bit nervous as he went along, because if anything happened on the road less traveled, the other travelers would be on the road more frequently traveled and so couldn't hear him as he cried for help. Sure enough, that poet is dead."
Mysterious Benedict Society - Yeah, fine. I've only read the first one. But then I bought the other two, so they're on my shelf. And they are AWESOME. I am totally pro-this series. Orphans, cleverness. That's all I need.
Chronicles of Narnia - Does this even need to be said? Favorite is probably The Magician's Nephew, but then I'm fond of Jadis, because I am an idiot. Also I enjoy Uncle Andrew calling her a "dem fine woman." And him being planted in the ground like a tree because the animals are confused about what he is.
Percy Jackson - YEAH I SAID IT. I love Percy Jackson. The first book's kind of rough, but Riordan's writing improves (although his proofreader's skill doesn't -- there are at least three obvious typos in every book) and I'm reading both his series as they come out (The Kane Chronicles and The Heroes of Olympus). He gives girls decent page space, he's got a decent sense of humor, and he's helping me sort out my Greek/Roman/Egyptian gods. Plus The Last Olympian was completely awesome and basically a rehashing of The Iliad.
Did I forget any? I probably forgot some. But look! It's Ginnifer Goodwin and Josh Dallas from Once Upon a Time!: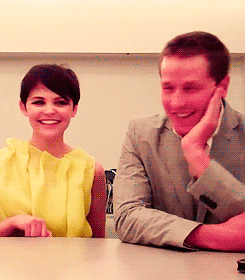 I kept waiting for an appropriate post for this and then found there
wasn't one. But look how cute!