I HAVE A STORY. Prepare yourselves.
Yesterday I decided to go to Target. This is a bit of a complicated process when you live in a city and don't have a car, as Targets are rarely downtown, so I walked a mile to the red line and took it to the nearest Target, which is in a not-particularly-savory part of town.
After purchasing important items like bergamot body wash and corkboard (bless the superstore), I left, deciding to walk home because it was such a very lovely day outside. But I needed ice cream first. So I betook myself to Baskin Robbins, where I purchased a 3-point chocolate/rainbow sherbet cone (I would not recommend this combination, as caramel does not mix with rainbow sherbet, but peanut butter & chocolate totally does).
I left, walked another half mile, whereupon I discovered that my CTA card was missing. CTA is Chicago Transit Authority, and I have a monthly pass. I'm normally extremely paranoid about where my keys/CTA card/phone/wallet are at all times, as I'm convinced everyone is a highly-trained pickpocket, but I was carrying too much stuff and I had a sneaking suspicion my attempts to be dude-like and put my card in the back pocket of my jeans had not served me well.
So I backtracked, asked the Baskin Robbins man (who had previously informed me that the flavor he sells the most of is vanilla -- I AM ASHAMED OF YOU, CITIZENS), but he hadn't seen it. I called Target and it wasn't in their lost and found. So I walked back up the -- well, it's essentially an overpass that looks like it belongs in Mad Max Beyond Thunderdome -- and I scanned the sidewalk intently, which yielded nothing but stray garbage. Alas. BUT I STAYED POSITIVE. "I will find it; I will," said I.
And there, 20 feet from Target, in the middle of the sidewalk, was my CTA card still in its protective holder, given to me by Julie when she came back from England, which was the real reason I was fairly bummed about having lost it.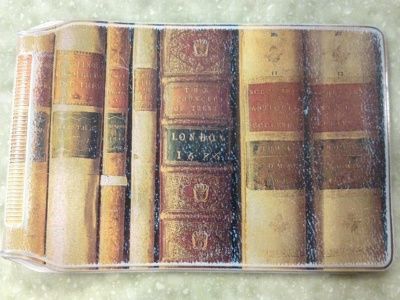 I'm convinced no one stole it because it had books on it
So books protected my transit card. Thanks, books. I knew you'd be useful one day.
OTHERLY, I am giving away this kickass copy of Hound of the Baskervilles. IT IS SO PRETTY. And if I hadn't read it during my Sherlock Holmes phase, I would totally keep it for myself. But no. And bonus, when whoever wins it wins it, I will send Red her book that she won a billion years ago (Red, you are totes allowed to enter this). And I owe Nahree one too, actually. Hm. ALL WILL GET BOOKS.
Look at that awesome cover
Oh yeah, I guess this ends
March 13th at noon CST
.