I haven't done the Literary Blog Hop in forevers, because it usually wants me to, y'know, Think About Things, and when I write this blog, I pretty much do it in a stream of conscious style. In case you couldn't tell.
BUT. Before we get to the thrilling question for the week/month, I have to tell you about this movie I saw last night starring Jean-Claude Van Damme. My co-worker Doug (whom I quote often on twitter) lent it to me; it's called Knock Off and this is the plot as given by Netflix (no, you want to read this):
After learning Russian mafia terrorists are plotting to implant

thousands of "microbombs" in knockoff jeans and ship them around the

globe, Hong Kong-based fashion rep Marcus Ray (Jean-Claude Van Damme)

races to stop them alongside undercover CIA agent Tommy Hendricks (Rob

Schneider).
RIGHT? That movie was amazing. Ok, Blog Hop time:
How do you find time to read, what's your reading style and where do you think reading literature should rank in society's priorities?
Ah. Those are a lot of questions, but again, as they're easier than usual, I shall bear onward.
I actually kind of suck at reading. When I get home from work, I need to practice opera things, and I also enjoy things like "eating" and "watching Parks and Recreation" so those take up a lot of my post-work time. So weirdly, most of my reading happens at work. I receptionize, and in downtime, there're lovely books online. This is how I got through The Tenant of Wildfell Hall (Tenant, I love you, but your middle section is terrible).
I also pretty much always read through lunch, because it's a good way of being by myself. Which is funny, come to think of it, as in her entry on this Emily quoted Shadowlands, saying "we read to know we're not alone." Which I totally agree with, but if you sit in the lunchroom with your back turned to everyone and a book out, it's a pretty damn nice way to be left alone.
My reading style is also pretty sucky. Comparative Literature thrives on the explication de texte, which is where you examine one paragraph (appx) in an entire work and analyze the shit out of it, i.e. Every Word Is Important. When your brain goes that way, it's nigh impossible to switch it back, so my reading speed slowed immeasurably (well, probably measurably) from high school to college, and has stayed stuck in Extreme Slow Mode, meaning I do not get through books quickly, but I also get bored with things if I stay with them for too long, so then I keep starting new books and not finishing any and it's one of those vicious cycle things you hear about.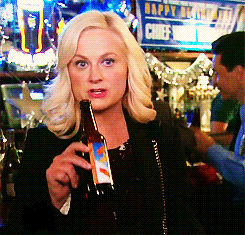 Where should reading rank in society's priorities...I have split feelings on this. Because I have friends who are BRILLIANT and awesome and just don't read. And I know some real assholes who love to read. But generally speaking, if I see someone reading, I trust them more. Unless they're reading Infinite Jest on the El train. Remember that guy? What a tool.
I tend to summarily dismiss quotes about books, but when I actually read them, they make me feel squishy. The Chicago Public Library has this in big block letters on one of its walls: "The very existence of libraries affords the best evidence that we may yet have hope for the future of man. - T.S. Eliot" And yes. That.
I want to just be easy about it all and say "Well, whoever wants to read can read," but then when 50% of the people the mayor lays off during budgets cuts are library workers, and the library takes up only 3% of the city's budget, I get irritated as hell (after protests, this number was lessened). Our library commissioner, Mary Dempsey, has resigned in the wake of this. She was AMAZING. Amazing.
If you get absolutely anything out of this post -- and I am going to be sincere for once, people, I hope you read her letter to FOX News Chicago in response to an article of theirs that asked "
with the internet and e-books, do we really need millions for libraries?" Her description of what the library's budget is used for makes me so, so proud of our library system.
So I guess my answer is that I think reading should rank high enough not to be the first and biggest thing cut in a budget. I think it should be acknowledged as important to our growth as human beings and as a society. And I think we should all read Television by Roald Dahl and take our kids away from the damn tv set.
The End.