Those bastards at Blogger have finally made me switch from the old system to the new. So if this SOMEHOW LOOKS REALLY WEIRD, it's their fault.
So it's Friday. This week was crazy because I had to make a recording of some arias (er, "opera songs") and that is STRESSFUL because auditions are for once, but recordings are forever, yo. So your brain's like "THIS BETTER BE GOOD IS THIS GOOD ARE YOU DOING A GOOD JOB OMG DO IT BETTEEEEER." Whereas in an audition, it's kinda like "Hahaha fuck it, this is for six minutes then I'm out."
Speaking of capitalizing things, have we all read Growing Up Cullen? I don't know if this is just known on Livejournal or if it's on the interwebs at large. In any case, it's a Twilight thing in the form of a posted chat. In which Edward is turned into a 40-year-old mom. Some highlights:
balcarin: NO ONE UNDERSTANDS MEEE HE WOULD SEETHE AS HE PRESSED HIS WILDFLOWERS
balcarin: i bet he did bella's bathroom too
balcarin: when he got tired of watching her sleep
welurklate: he has gloves and everything
welurklate: he gets in there all like scrubs shit
balcarin: and gets pissy if anyone touches his specially organised bucket
balcarin: WHO WAS TOUCHING MY CLEANING SUPPLIES???
welurklate: EMMETT, DON'T TOUCH MY WINDEX
welurklate: YOU USED ALL MY FEBREZE LAST WEEK AND I LET IT GO BUT THIS IS TOO MUCH
welurklate: I AM PUTTING MY FOOT DOWN
Because of said recording, I didn't really feel like reading. I finished Emma Donoghue's The Sealed Letter, to which I say "REALLY, Emma?" Because you think it's going to be full of forbidden Victorian sexytimes and secret lesbians, but then it's pretty much just "The narrator's a lesbian! But we're only gonna vaguely reference that. Also it's mainly about a divorce case in 1864 where a lady cheated on her husband with a dude. Sooooo kind of boring."
To be fair, she does a good job setting up the background, and now I know a lot more about divorce law and SPEW (IT WAS A REAL THING -- Society for Promoting the Employment of Women) and Victorian feminism. But would I recommend it? Nah.
Everyone just read Tipping the Velvet, Fingersmith and Kissing the Witch. Those're the best of Waters and Donoghue.
So I didn't really feel like reading actual books, but what I DID read was an 86,000 word fanfic about Emma Swan and Regina Mills from Once Upon a Time. Their ship is called Swan Queen. OH THE CLEVERNESS. Also I watched this vid like 20 times and then Megs made fun of it for being overly emotional. I DO OPERA -- OVERLY EMOTIONAL IS OUR MEDIUM.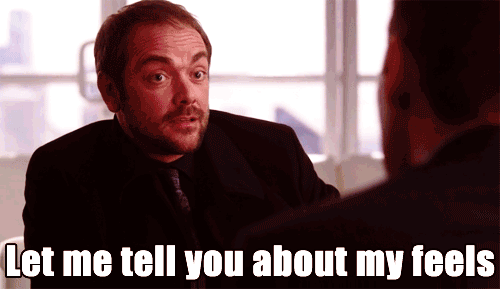 My niece is getting christened this weekend, even though she is a TINY BABY AND WILL NOT REMEMBER IT, so Imma go check that out. Everyone have a pleasant and fall-y weekend. Leaves are changing! Everything is pumpkin-flavored! Boot season is back! So many reasons to rejoice.