IT'S ON. Meaning it's Steinbeck time.
But first, I want to briefly address Illinois and how flat it is. I don't know how it is in your all's places of living, but I don't realize how completely flat my state is until I visit anywhere with an inclined plane, and am all of a sudden like "...wait, what?" IT IS SO EASY TO WALK EVERYWHERE HERE. I feel like I need to shock myself by going hiking in Vermont or something. Anyway. STEINBECK.
This month is the Grapes of Wrath readalong, hosted by Laura. Laura is awesome, and this readalong is being done by many awesome people. If you want to join, you can. There will be many gifs to combat the apparent sadness of this book.
The first post is always the pre-read ruminating post. Have I read Grapes before? A resounding NAY is my answer. BUT have I read Steinbeck before and do I want to have his tiny babies who probably smoke and ponder humanity's potential while unable to express themselves in words other than "Asgfdhjklghl"? YES. Did I have a minor freak-out about East of Eden because it's probably the greatest of Great American Novels? YES.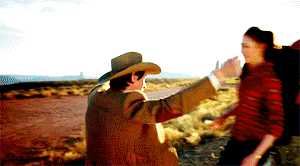 East of Eden and me
So I'm rather excited about this.
I should address that I know a lot of people had to read Steinbeck in high school, and that sucks, because High School Ruins Books. I got away with just having to read The Pearl, and now I hate The Pearl. Also because our teacher made us listen to this song which I guess someone felt called upon to make. "Hey, how about we write a song about The Pearl? That seems like something everyone would enjoy." Yeah, anyway, I haven't gotten the chorus out of my head in the last 12 years.
SO EXCITED ABOUT GRAPES OF WRATH. We will cry, and possibly curse out Steinbeck, but he's dead and laughing at us in our pain. There's nothing we can really do.