This post is brought to you by Josh Dallas's arms.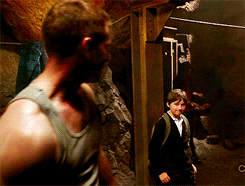 Yeah. You mine that coal. Or whatever you're doing.
WELL. Did everyone have an eventful, cultured weekend? 'Cause, hah, I did. If part of eventful means traveling 20 miles on the Metra to Glencoe to see Hamlet, but then leaving again when the actress my friend and I went to see had an understudy. Because that happened. But I found a pinecone! And carried it back to Chicago with me, for we do not see such things here. On SUNDAY, my friend who works at our natural history museum took me in and I got to see extreme mammals (a subject dear to my heart, because GIANT ANIMALS FROM THE PAST) and Indian art/fancy jewelry. And then -- oh, and then, I met up with Beth Fama in Hyde Park, for she promised to show me the former sites of the 1893 Columbian Exposition, and show me she did! Her family is delightful, as is she.
Yeah. Check that picturesque shit out.
We walked around the University of Chicago, where I was only slightly bitter about them rejecting me (you see this blog, U of C? YOU COULD HAVE HAD ALL OF THIS). Also the weather was perfect. But anyway. This just further solidifies in my mind the notion that book blogger/author people are awesome and we should all get together and have a pizza party like in second grade when everyone read enough books and got Pizza Hut points, only OUR second grade pizza party will be way awesomer because we'll have booze.
Your literary thought for today is teenage Robert Browning holding up a boombox outside Elizabeth Barrett's house. "IIIN YOOOUR EYES."