First off, if you missed Doug's post on Pride and Prejudice last Friday, check that out. Because Doug is awesome.
Second, The Casual Vacancy is kicking ass and taking names.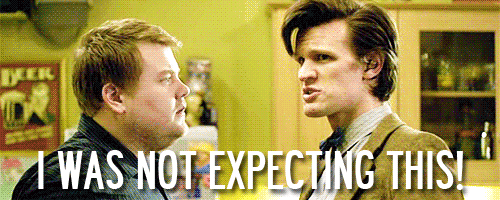 I think, lurking in the back of my brain ever since the book was announced was the thought that 'Um....I probably won't be that into it.' That has been proven FALSE. Because I started Harry Potter when I was 14, I couldn't read it critically. Could. Not. So when my professors would be like "Blah blah, Order of the Phoenix the worst one blah blah" all I could do was go "I LOVE ORDER OF THE PHOENIX THE MOST AND I CAN'T TELL YOU WHY."
But with THIS, I'm all a grown-ass lady and stuff, so it's like "Oh, J.K., your character details are what make us love you. THIS IS HOW YOUR WRITING IS MAGICAL." Because she somehow knows EXACTLY what to say to flesh out a character. I suspect I'd read this with a lot more reservation if it were by anyone other than her, but because -- as it turns out -- I trust her SO much, I'm enjoying all of it. I just want her to write everything. ALL THE WORDS.
Last night was Full of Feelings, because I saw the last Doctor Who of this year (aside from the Christmas special, which I finally have hopes for despite the Christmas specials always sucking), and THEN Once Upon a Time s2 premiered and all I can say is you all are FORTUNATE I have a Tumblr, because I was being gross and fangirly for like two hours straight last night. I will, however, share an exchange my friend and I had when Aurora showed up on OUAT:
me: "She looks a little fat from that angle."
friend: "You look a little bitchy from this angle."
Well-played, friend. I'm sure Caitlin Moran would not approve either.
Still reading Outlander. People are still having sex. A lot. With some random Scottish terms thrown in to make it exotic and historical. But most of m'reading time is taken up with Casual Vacancy, which I both want to finish and NEVER WANT TO FINISH because Deathly Hallows came out FIVE YEARS AGO, and who knows when we're getting another JKR book? Sigh.
In conclusion, and to bind things up, there was a Dementor on Once Upon a Time and they tried calling it a Wraith BUT WE ALL KNOW WHAT IT WAS, ABC.
Yeah. "Wraith."