How hilarious would it be if Charlotte Bronte and Jane Austen had to be freshman year roommates at college. 'Cause freshman year you've probably never roomed with someone before, so you're gonna be a jerk at sharing what basically amounts to a cell with them. My freshman year roommate and I ended up having an epic battle the night before first semester finals that ended with my Jell-O being dumped out of our minifridge and me sleeping on the floor of my best friend's room down the hall. I spent the rest of the week at my parents', studying for my British History to 1688 final by reenacting historical scenes with my Beanie Babies.
But that is neither here nor there, because the POINT is that Charlotte Bronte and Jane Austen would have hated each other, because along with "She stares broodingly out the window ALL THE TIME" complaints, they would've been taking the same creative writing class, and Jane would've been offering criticism like "MAYBE she shouldn't be with him because he's a selfish asshole, as opposed to just the having-a-wife thing," and Charlotte would've been like "MAYBE YOUR CHARACTERS SHOULD FEEL SOMETHING FOR ONCE IN THEIR DAMN LIVES" and then they would've thrown scrunchies at each other from across the room.
I'll bet Charlotte would be really active on Tumblr. "YOU GUYS DON'T EVEN KNOW WHAT I HAVE TO DEAL WITH HERE. OMG."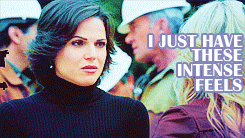 Charlotte Bronte in GIF form
And then they'd transfer at the end of the first semester and Austen would get a single and Charlotte would move in with Emily and they'd watch Tim Burton movies all the time and listen to Bright Eyes.