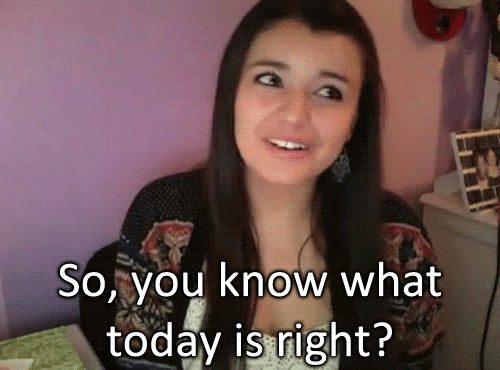 I AM SORRY I HAD TO.
My mom just called and told me that some people are going into K-Marts and paying off other people's layaway bills for Christmas toys. I am now teary. How is this related to books? IT ISN'T GET INTO THE CHRISTMAS SPIRIT EBENEZER.
I have precisely 12 pages of Sophie's Choice left, and it's just kind of sitting there next to me, which makes me the worst reader of all time. I've also, not kidding, done this when I've had two pages left of a book. "Yeah, I'll get to that later on." I'm a bad enough reader that I probably shouldn't have a book blog, but then where would I post gifs? Google+? We know that's not an actual option.
In other news, I have started La Comédie humaine by Balzac. I'm a third of the way through La Maison du chat qui pelote, and

what's happened so far is young

Théodore

is in love with young Augustine, who has ivory skin and rosy cheeks and is, of course, 18-years-old. But he's a painter, her dad's a businessman, so, problems. That is pretty much the ENTIRETY of the first third of the book. He just kind of stands outside her house and looks at her window. Oh, The French.
In OTHER other news, I just discovered they're making a film of Austenland, which at first literally made me howl in despair (my priorities in life are not great), but then I saw the cast and INSTANTLY became conflicted. Because Jennifer Coolidge is playing a role I know she will make hilarious. And Bret McKenzie from Flight of the Conchords is in it. And Jane Seymour. Screw you, movie! I will see you, but I will complain about you.