YOU GUYS -- YOU GUYS. I've figured it out. Naoko is a serial killer, and she killed her sister and Kizuki. BAM. Book SOLVED.
You're supposed to solve books, right?
But seriously, best. twist. ever.
Let's see...the lesbian part bugged me. I think just because I was watching the Daria episode last night where a bisexual woman attempts to "seduce" Jane, and Jane's like "Hey, shifty spiderwoman temptress, don't try to make me gay." And I'm not saying that was Murakami's goal, but it just kind of furthers this vision of lesbians as trying to convert others, or being into all women. Meaning Reiko's statement of "I never feel desire when I look at a woman," ok, that makes sense, but not wanting to have sex with Naoko doesn't NOT make her a lesbian. It's not like you're attracted to every single member of your gender if you're gay.
Ahem. Not to go off on a tangent that doesn't really matter to the overall plot. Let's get back to Naoko being a serial killer!
"She didn't leave a note, either. Really, it was exactly the same, don't you think?"


Ah, the wily killer. Ever taunting the unknowing.
Ok, so we've got that, and then the unfortunate lesbian portrayal, and then there's this weird insular quality to the whole book. The rest of the world seems almost completely shut out. Like it's THERE, but it's shadowy. Which I guess is ok, because who needs the rest of the world? Nobody! Unless you're Dickens. Then the entire world is just dandy and yes, he would like to use it all in his book, thankyouverymuch.
People are still depressed; Naoko's less annoying. I just want to tell the characters a little something I learned from Meet the Robinsons: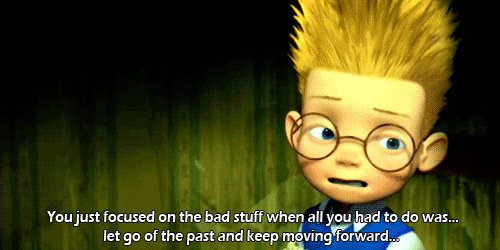 Also, peeling grapes, what's that all about? Other cultures being weird, THAT'S what that's about.* Also chapter 6 was the longest chapter in the history of longdom. That is not cool.
*note: I am not actually xenophobic
addendum: You guys -- my friend Nahree at Etudesque has joined us and DREW something. I am in awe of people who can draw and/or dance, as I can do neither. This is all very exciting.