Do y'all remember that episode of Malcolm in the Middle where Malcolm's mom gets sick, and he's like "She is basically an impenetrable fortress when it comes to germs, so when one does somehow get through, it's a doozy"? Yes, of course you do. Because you are self-respecting people and have seen s1 of Malcolm. ("My mom says tv makes you stupid." "No, tv makes you normal!")
All this to say, after being mightily full of myself and not getting sick, on Tuesday I got sick. And am still woozily battling it out. But I think I'm unfeverish/uninsane enough today to update, and at least apologize for not answering some people's comments after I got all up on my high horse on Tuesday about other people not doing that on their blogs. I WILL DO IT.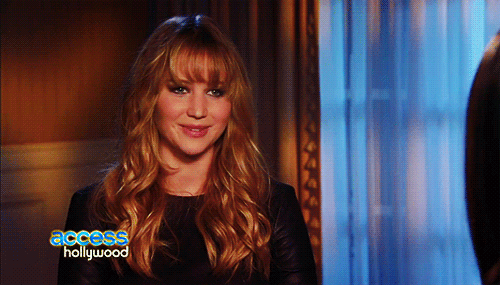 SICK ALICE NEEDS NO REASON FOR GIFS
I'm basically done with The Sisters Brothers, and it's the best thing I've read this year. I HIGHLY RECOMMEND you go get it. The writing's just kind of objectively good, and while I'm not usually a reader of ye olde Western (that's what the genre's called, right?), everything about it made me want to keep reading. And do you know how short people's attention spans are tod--ooh, orange juice. (see what I did there?)
It's about these two brothers who're hired gun-types, and when the story picks up they're going from Oregon City (hey, that's a place!) to San Francisco to kill a guy. And oh, the side adventures they have along the way! They're maybe not so much adventures as detours, but they're all awesome, and there are NUMEROUS bears in the book.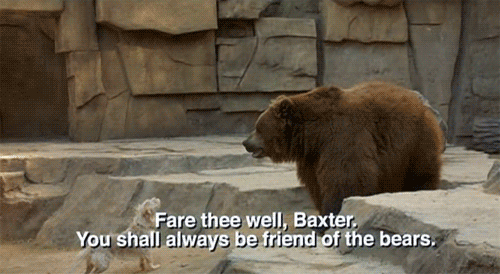 What I'm saying is, it's pretty great.
It alternates too between moments of sheer poignancy (I resolved to lose twenty-five pounds of fat and to write her a letter of love and praises, that I might improve her time on the earth with the devotion of another human being)
, with dialogue like:
'He describes his inaction and cowardice as laziness,' Charlie said.
'And with five men dead,' I said, 'he describes our overtaking his riches as easy.'
'He has a describing problem,' said Charlie.
I would hug this book if I didn't mostly read it on my computer. I might buy a print edition just to hug it.