Journal Entry at age 16:
I'm not sure I want to read more of Edith Wharton's books, but I feel like she's a very good author and I would go to the library or bookstore and get all her stuff if she weren't so depressing!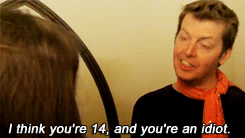 I want to pat my former self on the head and go "You no talk more about books."
I even used the fatal exclamation point. "The Exclamation Point: Guaranteed to make anything placed before it sound lame."'

This is the same self who wrote at 17 about Les Misérables: "Poor Fantine! I mean, I don't want to sound stupid, but this book's sad! :)"
Yeah. I wrote a smiley face. At myself.
Damn you, teenage years.

Jennifer Lawrence gifs make everything better